We are excited to present the latest information on our Explorigins colloquium this week as part of Space Science Week @ Tech! See the flyer and schedule below for additional information and a detailed schedule.
Add Your Heading Text Here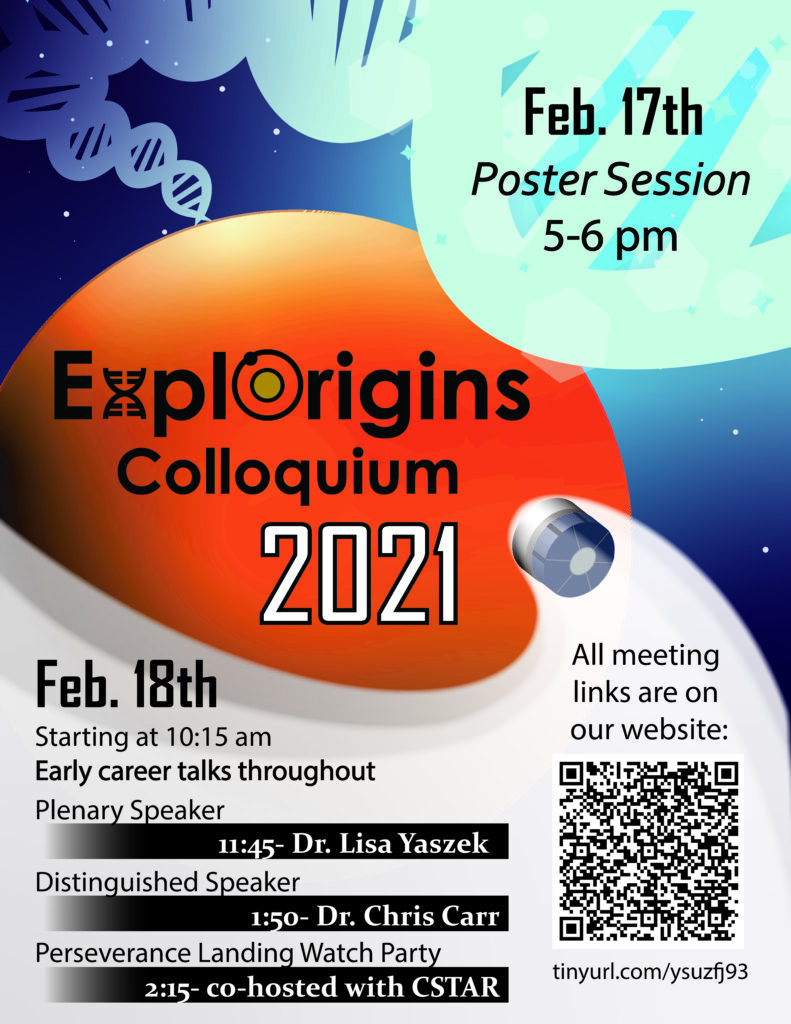 Add Your Heading Text Here
Schedule:
Wed, Feb 17th 5–6 PM (Join here: https://bluejeans.com/488994566)
Thu, Feb 18th, Starting at 10:15 AM (Join here: https://primetime.bluejeans.com/a2m/live-event/fjxqjbgp)
10:15—Welcome and Introduction
10:30—Astrobiology graduate certificate ceremony
10:45—Talks, 10 min talk + 5 min discussion

Bhanu Kumar (Graduate Student, MATH)
Rebecca Guth-Metzler (Graduate Student, CHEM)
Abigail Johnson (Graduate Student, OSE)
Tony Burnetti (Postdoc, BIO)

11:45—Plenary talk, Prof. Lisa Yaszek (LMC)
12:45—Lunch
1:30—Talks, 15 min talk + 5 min discussion

Micah Schiable (Research Scientest, ChBE)
Prof. Chris Carr (AE and EAS)
Thu, Feb 18th, Starting at 2:15 PM (Register here: https://primetime.bluejeans.com/a2m/register/xecvbzja)
Watch party for the landing of the Perserverance rover on Mars, co-hosted with CSTAR
Note: This event has separate registration.
Add Your Heading Text Here
Plenary Speaker: Prof. Lisa Yaszek
Talk Title: A Brief History of Astrobiology Science Fiction, 5BCE–Present
Abstract: In this talk, Regents Professor of Science Fiction Studies Dr. Lisa Yaszek demonstrates how science fiction artists anticipate, dramatize, and extend our ideas about astrobiology. After briefly reviewing astrobiology themes in ancient and medieval world literature, Dr. Yaszek explores three aspects of this discipline that fascinate modern scientists and speculative artists alike: exobiology, the origins of life, and planetary habitability. She concludes by considering the increasingly global and self-reflexive nature of recent astrobiology stories across media. 
Bio: Lisa Yaszek is Regents' Professor of Science Fiction Studies in the School of Literature, Media, and Communication at Georgia Tech. Her books include Galactic Suburbia: Recovering Women's Science Fiction (Ohio State, 2008); Sisters of Tomorrow: The First Women of Science Fiction (Wesleyan 2016); and Literary Afrofuturism in the Twenty-First Century (co-edited with Isiah Lavender III, Ohio State, 2020). Yaszek ideas have been featured in The Washington Post, Food and Wine Magazine, and USA Today, and she has been an expert commentator for the BBC4's Stranger Than Sci Fi, Wired.com's Geek's Guide to the Galaxy, and the AMC miniseries James Cameron's Story of Science Fiction. A past president of the Science Fiction Research Association, Yaszek currently serves as a juror for the John W. Campbell and Eugie Foster Science Fiction Awards.